Anthony Denney at Rainham Hall in Essex
Rainham Hall Anthony Denney exhibition, cover of the excellent catalogue accompanying the exhibition
Rainham Hall, Essex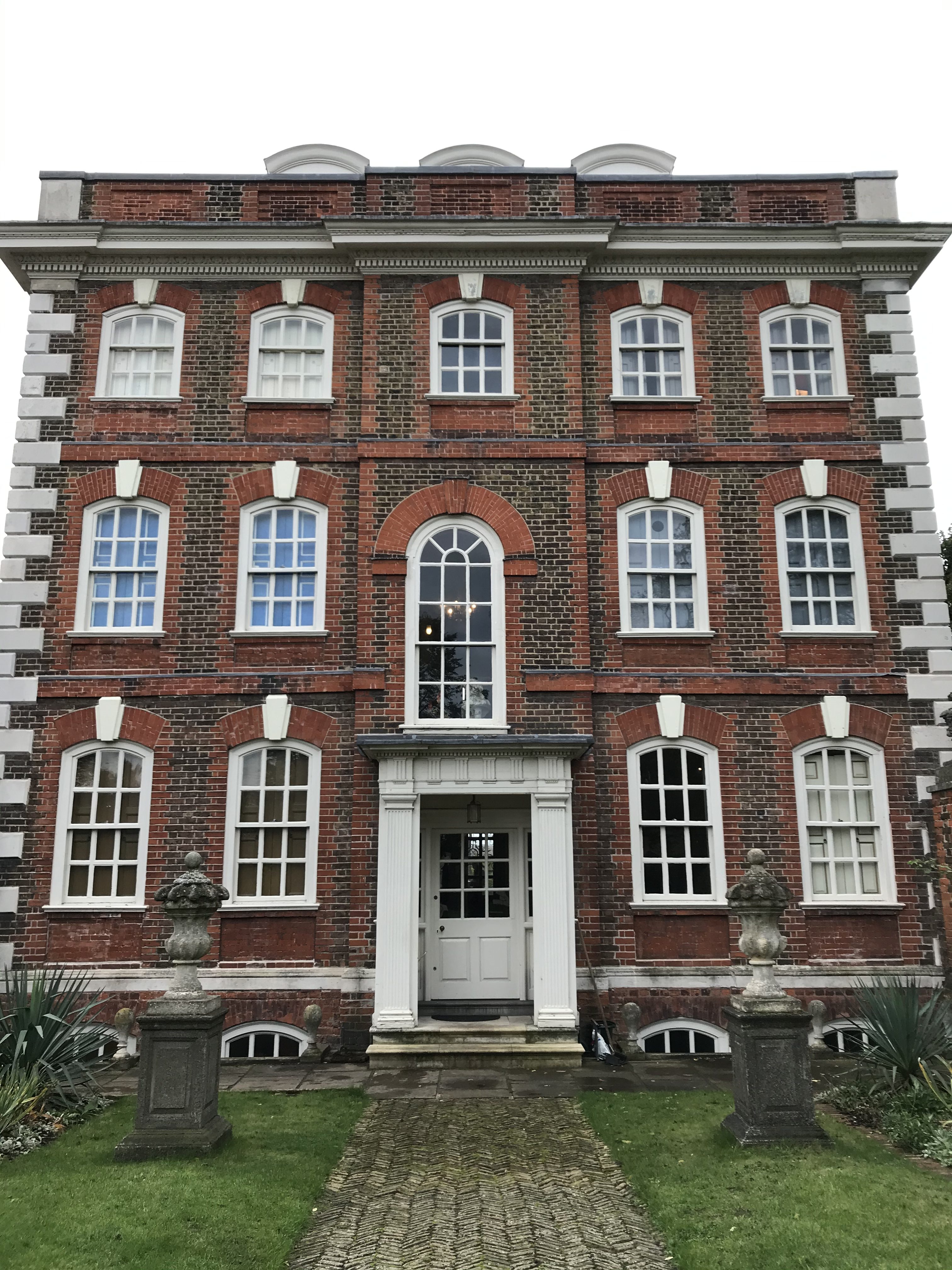 Rainham Hall, Essex - House viewed from the back garden
In November last year I visited Rainham Hall in Essex, a Queen Ann house which has had a succession of owners. Since 1949 it has belonged to the National Trust and until 2013 they let it out to a number of different tenants.
In 2013 they took possession of the house again and now open it to visitors. As the house has no contents there are exhibitions which are about the people that have lived in Rainham Hall
On our visit the exhibition was about Anthony Denney who lived at Rainham Hall from 1964-69. He used the interior for photo shoots and he was a photographer, interior designer and art collector.
We are used to seeing historic houses with a full complement of interior furnishings and it was really refreshing to see the structure of the house without contents and with a really interesting and varied exhibition about Anthony Denney.
There is a very interesting catalogue which accompanies the exhibition which gives lots of in depth information about Anthony Denneys and has contributions from the contemporary artists and designers who have installations in the exhibition.
I look forward to revisiting and seeing the next exhibition on another occupant of the house. Rainham Hall is well worth a visit.
Video projects as part of the Anthony Denney exhibition showing his photo shoots for Vogue and House & Garden
Projected images were used in a number of rooms to show Anthony Denney's work.
He photographed for Vogue and House and Garden. These projections were really interesting and it was rather atmospheric.
Projections used throughout the Anthony Denney exhibition at Rainham Hall
Projections used throughout the Anthony Denney exhibition at Rainham Hall
The text and quotes displayed for the different rooms were interesting and beautifully displayed. I particularly liked 'The Dior of the interior decorating world says: 'Accentuate what you think are the bad points in a room.' 'If you have a little dark room, sometimes it pays to make it littler and darker still.' Daily telegraph 1959
Anthony Denney decorating tips, Rainham Hall exhibition
The image below shows trompe l'oeil painting on canvas on the stairs. This is part of an earlier original decoration. In the rest of the house some of Anthony Denney's decoration remains and includes all sorts of marbling, graining and interesting colour work. He used the house for photo shoots as can be seen in the magazine article which was displayed in the exhibition.
Rainham Hall, Essex, trompe l'oeil painting on the staircase walls, painted on canvas.
All sorts of interesting displays of articles about Anthony Denney and his time at Rainham Hall.
In celebration of Anthony Denneys food still lifes, a scented installation has been created which takes inspiration from the displays that Denney's used for table settings for his kitchen dresser and also for Elizabeth David's shop windows.
The installation was by artists Tasha Marks (Scents) and Justine Hounam (ceramics) and students from Havering College.
Great the way that this exhibiton engages with contemporary artists designers and students.
Elizabeth David quotes from a letter about Anthony Denney in the Rainham Hall exhibition
Rainham Hall exhibition, table and cast pieces by local artists and students
Rainham Hall exhibition, table and cast pieces by local artists and students