Casting crockets in the Gloucestershire countryside
Hartpury organ case and pipes, restoration complete. The organ case has been re-grained in oak and the pipes gilded and painted.
The front panel of Hartpury organ with plaster repairs complete.
In 2004 we worked on the restoration of the Hartpury organ in Gloucestershire. This was my first foray into casting plaster repair pieces and it set me onto working on my own cast and carved plaster abstract pieces.
This was a fabulous project; the church sits in a country lane next to a village hall and farm. The church key was one of those huge lovely shaped iron keys that definitely does not fit into your pocket.
Our work was to re-grain the repaired organ casing in an oak finish, to re-gild the front pipes, to paint the side pipes with a very matt finish paint and to paint and gild a small decoration on all of the pipe mouths. Having just been trawling through our archives searching for images, it set me thinking about this project and of various things that happened along the way.
The casting was interesting and those of you that have used casting plaster will know how liquid it is and when one is using funny shaped repair moulds, how important it is to put them onto a base that holds them upright. The roofers that were working on site at the same time were highly amused at my muttering as the moulds tipped over. One learns a lot on these projects.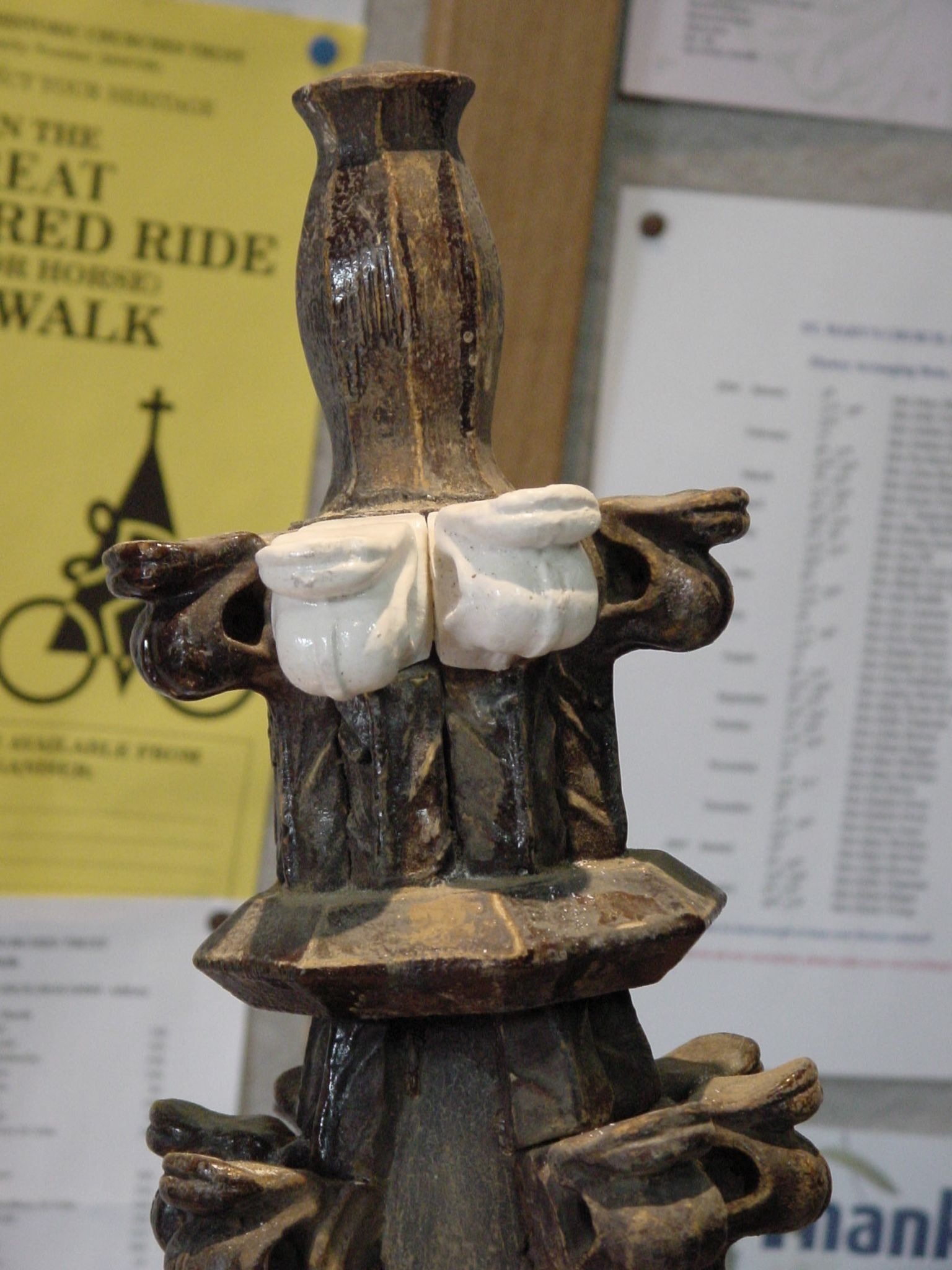 Recast crockets in place on the Hartpury organ pinnacle
Casting crockets for repairs to the Hartpury organ pinnacles
The image on the right above shows the crocket moulds and the cast and shaped crockets ready for attaching to the front panel of the organ. The image on the left shows the pinnacle with new crockets attached.
The side pipes of the organ were to be painted with a very matt paint which we mixed to a colour that would minimise the impact of the pipes. We had these large pipes laid on trestles in the bell tower. After painting with the very flat matt paint, the next morning I wondered whether there was a leak in the roof as there were small drops on a number of the pipes. Until I realised that bats had been peeing on the pipes. We then constructed coverings to prevent the nocturnal visitations.
I always enjoy working in these places and being able to wander around the churchyard at coffee break time. A great pleasure and in this case it has led to my working on cast and carved pieces as you can see below. Very fortuitous. At this point I have a number of new pieces in work and underway.
Hartpury Church Organ, Gloucestershire
Cast and Carved plaster figure no.2 Saskia Huning
Cast and carved plaster panel, Saskia Huning
Abstract plaster panel