Recreation and Restoration
The David Parr House
Recreating damaged and lost areas of wall paintings in this Arts and Crafts workers home
Recreating the Drawing Room wall painting at the David Parr House
Work underway on recreating the wall painting in the Drawing Room
David Parr, a Victorian working class decorative artist, lived at Gwydir Street in Cambridge from 1886. He worked for the Cambridge firm of F R Leach & Sons, working on painted schemes in houses and churches by George Frederick Bodley and William Morris.
David Parr also decorated his own terraced home over the 40 years that he lived there, covering walls and ceilings with intricate patterns in the style of the time.
In 2014 the charitable trust David Parr House CIO was set up to save 186 Gwydir Street and to open it to the public.
Three areas of loss of decoration were recreated by Huning Decorations in the Drawing Room, Hallway and Dining room.
In the drawing room the detailed design above the dado is a version of a William Morris design. Two large areas either side of the window had been painted over in the past due to water damage. These were recreated so that the decorated room could be read as a whole.
The design is pounced onto the wall and hand painted. Colours are built up in layers to achieve the look of the original oil painted finish.
Follow this link to the BBC article on the house 
Hallway repair underway, the white pouncing lines can be seen.
At work on the hallway repairs
Hallway repair complete
Hallway recreation
A large repeating design runs on the high dado throughout the hallway. It is painted onto canvas. An area next to the door had suffered water damage. A new canvas substrate was reattached by Tobit Curteis Associates and the design recreated using artists acrylics layered to achieve the same appearance as the worn and patinated surface surrounding the damaged area.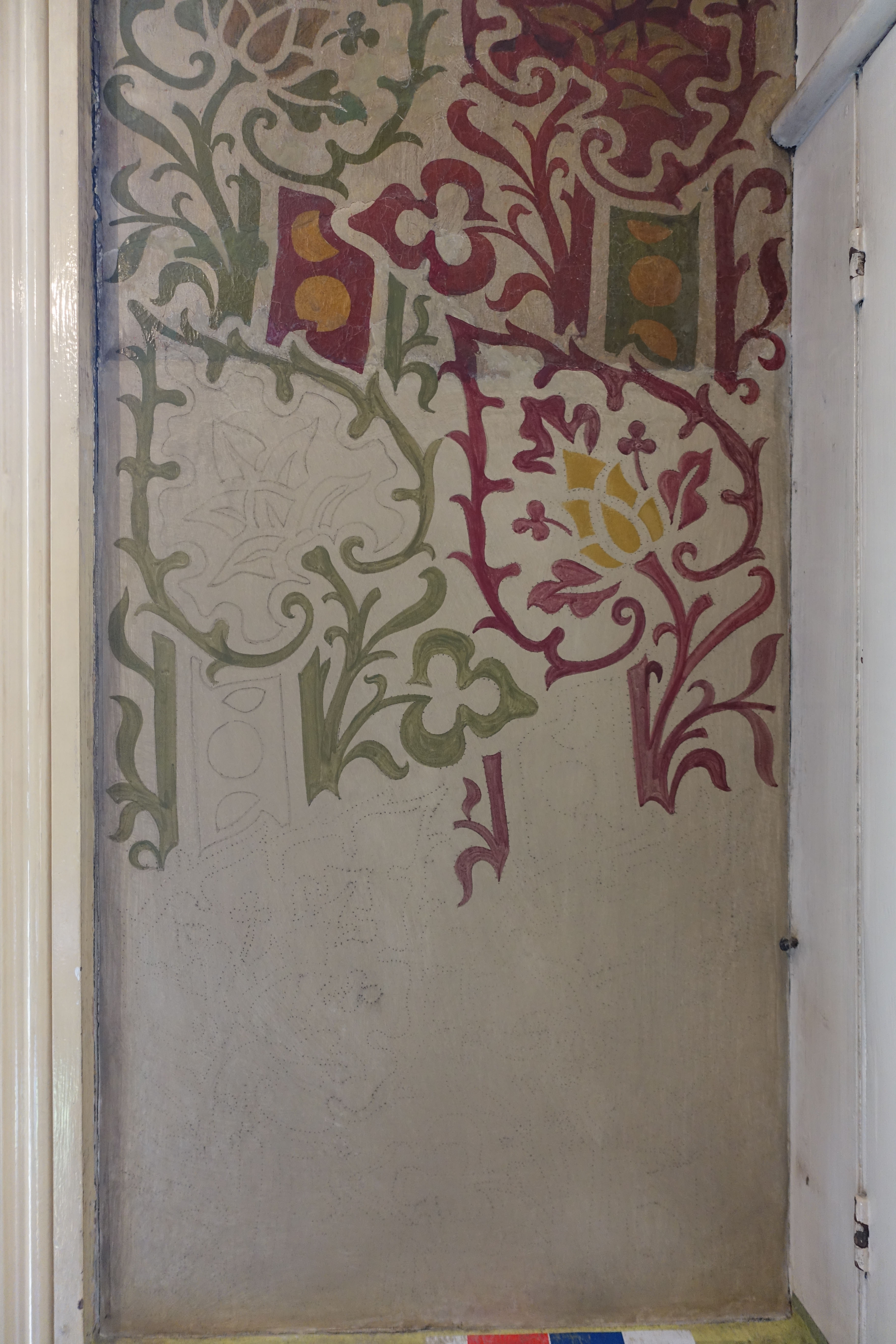 Dining room repair underway, colour being added in layers
The completed Dining room repair
Dining room recreation 
An area of the painted design next to the window had suffered water damage. The design was recreated on a re-papered surface. The patinated surface appearance was created by building up the colour in thin layers.